SANDYLANDS is written by Martin Collins and Alex Finch for GOLD and King Bert Productions.
Sandylands Series 1
27-year-old Emily Verma is living the high life (or so she tells herself) in London, having escaped the clutches of Sandylands – her seaside hometown where her semi-estranged father Les Vegas remains a local celebrity as arcade owner and self-proclaimed 'King of the Strip'. However, when this neon-encrusted 'jewel of the north' becomes headline news after a bloodied pedalo is washed ashore – a pedalo last hired by Les – Emily is forced to make a reluctant visit home, where she quickly discovers that all is definitely not what it seems in her old stomping ground.
Executive Producer: Jo Sargent
Starring: Sanjeev Bhaskar, Natalie Dew, David Walliams, Sophie Thompson, Hugh Bonneville, Simon Bird, Harriet Webb, Craig Parkinson, Hamza Jeetooa, Bronwyn James
Broadcaster: GOLD
Duration: 3 x 30′
Transmission: Wednesday 4th March, Thursday 5th March and Friday 6th March 2020 at 10:00pm
Nominated for Favourite Comedy at this year's TV Times Awards. For full line up and to vote, visit https://www.whatsontv.co.uk/news/tv-times-awards-2020-634577/
Sandylands Series 2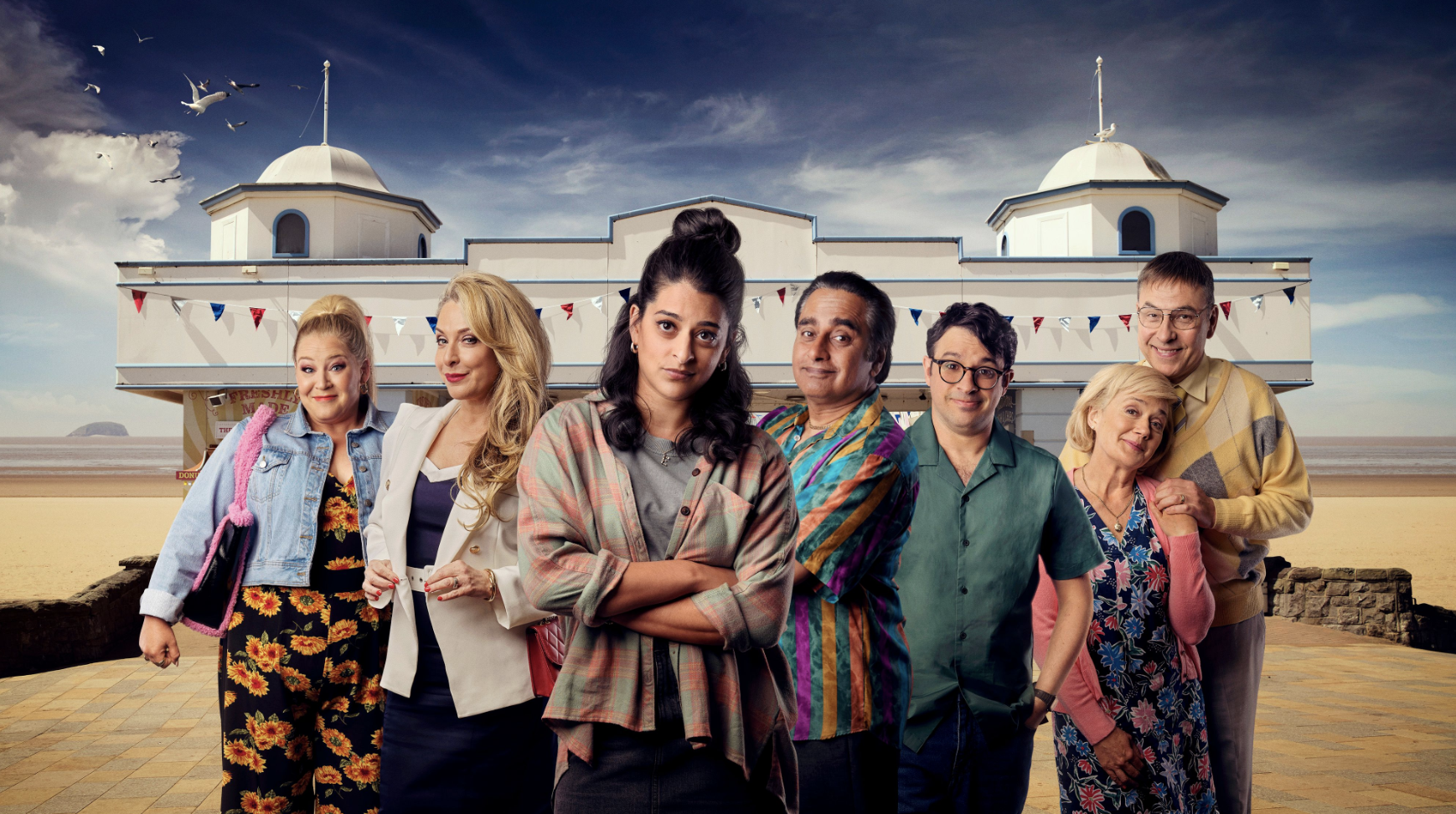 SANDYLANDS 2 is written by Martin Collins and Alex Finch for GOLD and King Bert Productions.
After taking to the high seas in a pedalo to escape the clutches of insurance investigator, the One Eyed Man, Emily and Les return home. It's there they discover Emily's estranged mother, cruise ship entertainer Donna Vegas, standing in Les's front room. Emily isn't exactly impressed that her mother has turned up out of the blue and needs to decide if she can trust her.
Les and Donna can't deny their attraction to each other and soon Donna is in on Les's life insurance scam and acting like the perfect mother. Unfortunately, Emily doesn't know what to believe. Is Donna only sticking around for the money?
Writers: Martin Collins & Alex Finch
Director: Michael Cumming
Producer: Rosemary McGowan
Executive Producer: Jo Sargent
Starring: Sanjeev Bhaskar, Simon Bird, Natalie Dew, Tracy-Ann Oberman, Craig Parkinson, Sophie Thompson, David Walliams, Harriet Webb
Broadcaster: GOLD
Duration: 3 x 30′
Transmission: 25th October 2021 at 10pm