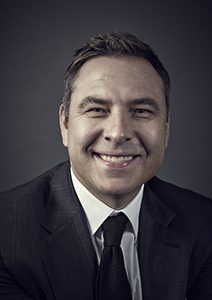 David Walliams is one of Britain's best-loved comedians and authors. Little Britain won numerous international awards including 3 BAFTAs, and now plays worldwide in over 100 countries. David has also co-created and starred in Come Fly with Me and Big School, and has been a judge on Britain's Got Talent since 2012.
A prolific and best-selling children's author, David has won numerous publishing awards and his writing style has been compared to that of his literary hero, Roald Dahl. He has sold over 12.5 million books and been lauded as "the fastest growing children's author in the UK". Four of David's books – Mr Stink, Gangsta Granny, The Boy In The Dress and Billionaire Boy have been successfully adapted for television, with the adaptation of Mr Stink receiving a BAFTA nomination. More adaptations to film and TV are in development at King Bert, for broadcast from 2017.
David is also a trustee of Comic Relief and has personally raised over £8.5 million for the charity, notably completing the gruelling challenges of swimming the English Channel in 2006 and the River Thames in 2011.